Schedule for January 2018 IHC home page
Monday, January 1, 2018 New Years Day Hike Easy
Meet at NJ Audubon Plainsboro Preserve for an easy 4-5 mile hike around Lake Mc Cormack. Bring something hot to drink and a snack to share for New Years day!
Leaders: Guy & Jen Percival 973-590-7437 [email protected]
Meet: 11:00 AM NJ Audubon Plainsboro Preserve Parking Lot, 80 Scotts Corner Rd, Cranbury, NJ 08512
From NJ Turnpike Southbound Exit 8A Cranberry: Exit and after tolls bear right for Rt-32 West. Ramp is big U-Turn to Rt-32W. Drive ½ mi westward to Rt-130. Turn Left at light onto Rt-130. Follow it South 1.6 mi to the light at intersection of Rt-130 and
Dey Rd. (Rt-614). Make a Right onto Dey Rd. and follow Dey Rd to the next traffic light, and then make a right onto Scotts Corner Road. The Preserve's entrance is 0.8 mi on your Left, drive in 0.1 mi to barrier for parking lot. GPS Entrance (40.3492, -74.5570)
Sunday, January 7, The Tourne & Mtn. Lakes Moderately Strenuous
This is an 8 mile hike around the trails of the Tourne Park and also an excursion into historic Mtn. Lakes to see its historic "Hapgood Development" homes.
Leader: Paul Ferlazzo 973 979-2010 [email protected]
Meet: 9:30 AM Tourne Park, 50 McCaffrey Lane, Boonton Township, NJ 07005
From I-80 West, Exit 39: Rt-46 East. Go east 1¼ mi to Mountain Lakes Blvd. CR-618. Turn left at the traffic light and go 2½ mi to fork. Bear left for another ¼ mi to McCaffrey Lane. Turn left and go ¾ mi to parking lot on left by ball field. (GPS 40.9092,-74.4366)
Sunday, January 14, 2018 Bearfort Mountain Moderately Strenuous
The hike follows the Quail Trail up to Surprise Lake and then onto the ridge overlooking Greenwood Lake. We then go back around the lake via the State Line Trail & the AT. Return down to the lot via the Bearfort Ridge Trail for a total of about 9 mi in length. Carpool to Trail Head Required
Leader: Mike Roulier [email protected]
Meet: 9:00 AM Shopping Center/Hewitt Post Office; 1938 Union Valley Rd (Greenwood Lk. Tpk), Hewitt, NJ 07421
From Rt-23 north: Right exit onto Union Valley Rd. (Rt-513). Then go northeast 7 miles to the traffic light in the center of West Milford by Shoprite. Turn left following Union Valley Rd (Rt-513) at 1.4 mi. bear right (Do not go up White Rd.). Continue straight on Union Valley Rd (Rt-513) ½ mi. to intersection of Rt-511 (Greenwood Lake Tpk.). The shopping center is ½ block on right.
From I-287 Exit 55 (Rt-511): Go north on Ringwood Ave. (name changes to Greenwood Lake Tpk.) about 14 miles to Lakeside Rd. at south end of Greenwood Lake. Continue straight-ahead ½ block to shopping center on left. (GPS 41.1542, -74.3538)
Sunday, January 21, 2018 Lakota Wolf Reservation Moderate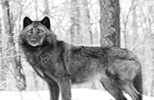 Once again we can hear the howling of wolves echo through the mountains. Photo opportunities of a lifetime and the experience of watching and listening to packs of British Columbian, Timber and Arctic wolves will be yours. Bobcats and Foxes also reside at the Preserve. Entrance fee needed
Leader: Ora Zable text 973-489-7864
Meet: 9:30 AM Lakota Wolf Preserve, 89 Mt Pleasant Rd, Columbia, NJ 07832
From Intersection of I-287 & I-80: Drive Westward on I-80 39 mi to Exit #4 Rt-94. Follow Rt-94 north for 2 miles, make a left onto Mount Pleasant Rd, and continue 1.5 mi to the Preserve on the left. GPS (40.9709, -75.0722)
****Hike ideas for May 2018 to October 2018 are due today, Jan 28th 2018 ****
Sunday, January 28, 2018 Duke Farms in Winter Moderately Strenuous
We'll hike the around the whole Duke Farms estate north of the South Gate. See the seven lakes with frozen waterfalls. The foundation of an unfinished mansion, and lovely orchids in a Greenhouse you can warm up in!
Leaders: Guy & Jen Percival 973-590-7437 [email protected]
Meet: 9:30 AM Duke Farm's Visitor Center, 1112 Duke Parkway West, Hillsborough, NJ 08844
From 1-287 South Exit 17, (Rt-202/206 South): Drive 1.5 mi to split of Rts-202/206. Take Rt-206 South 2.2 mi, and then turn right onto Dukes Parkway West. Drive ½ mi to Visitor Center Parking lot on left. Turn in and go 200 ft to the first turnoff on right. After turning in, go straight ahead to parking lot. GPS (40.5463, -74.6243)