Schedule for October 2017 IHC home page
Sunday October 1, 2017 Anthony Wayne to the Timp Moderately Strenuous
This 8 mile hike will go over West Mountain on the Timp-Torne trail to West Mountain Shelter, then on over to the Timp. Then we shall returning back on some other trails. Rain cancels this hike.
Leader: Jay Belis [email protected]
Meet: 9:00 AM Anthony Wayne Recreation Area (N. Parking Area), Harriman St. Park, NY 10911
From the South: Exit 17 on the Palisades Interstate Parkway (Exit is 15 miles north of the NYS Thruway). GPS (41.2968, -74.0277)
From the North: Exit 17 on the Palisades Interstate Parkway. (Exit is ½ mi. south of the Rt-6 and Seven Lakes Dr. Intersection.
Saturday October 7, 2017 ALTERNATIVE FACTS HIKE – Battle of the Hobart Gap Moderately Strenuous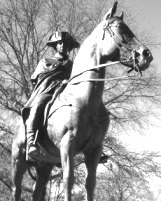 This is the fourth and final in the series of Wilhelm von Knyphausen 1780 raid memorial hikes.
The hike from Morristown to Summit is 12 essentially flat miles at a moderately brisk pace stopping from time to time briefly to see things, especially related to the Revolutionary War.
Early drop-out is possible by train from stations at Convent Station, Madison or Chatham.
Joint with Shorewalkers. Train Shuttle Required.
Leaders: Craig Nunn 551-206-6823 [email protected]
Jim Schlenker 908-295-8178 [email protected]
Meet: Contact Leaders for current train schedules and meeting places.
Complete details will be published by Club e-mail 1 week before the Event.
Sunday October 15-20, 2017 North Carolina AT Strenuous
We are going to do 5 days of section hiking on the AT in the National Forest in North Carolina. We will be staying in a lodge at Lake Junalaska. High points with good views will be Max Patch and Snowbird.
Leaders: Guy & Jennifer Percival 973-590-7437 [email protected]
Meet: Contact leaders to register and book accommodation. We have some space left. The trip maximum is 13 people.
Sunday October 22, 2017 Breakneck Ridge & Mt Taurus Strenuous
In the Hudson Highlands State Park, east of the Hudson River, are two striking peaks rising above the river. We shall climb both, enjoy the breathtaking views and perhaps find out why the bull broke his neck. Bring your camera and take some gorgeous pictures. The views of the Hudson River and Valley are spectacular at this time of the year.
Rain or foul weather cancels this hike.
Leader: Roy Williams [email protected]
Meet: 9:00 AM Breakneck Ridge Parking, Rt-9D, Putnam, NY 10516
From Palisades Interstate Parkway Northbound: Continue north following the PIP until the intersection of Rt-9W at the Bear Mt. Bridge circle. (18 miles north of New York State Thruway) Go ½ around circle to the Bridge and cross over the Hudson (toll) and at the end of the bridge turn left onto Rt-9D. Continue northward 11 mi thru Cold Spring, and ⅛ mile past the tunnel the lot will be on left side of the road. GPS (41.4456,-73.9793)
Sunday October 29, 2017 Trail Maintenance Schunemunk Moderately Strenuous
The club maintains this section of the Western Ridge trail (the previous Long Path), as well as the Lower Jessup Trail. Please come and help us maintain these trails! Bring your lunch, water, clippers and good working gloves. If you do not have clippers you can use the tools provided by the club. Rain Date Saturday, November 4, 2017
Leader: Trails Chair — Sara Van Niekerk 973-489-6442 [email protected]
Meet: 9:00 AM Schunemunk, 10 Taylor Road, Parking area, Mountainville, NY 10953
From I-87 Exit 16 Harriman/Woodbury Commons: After tollbooths stay to right for first exit, Woodbury & Rt-32. Take Rt-32 north about 7½ miles to Pleasant Hill Road, (Black Rock Hunting Club sign on left), Mountainville, NY. Turn left, go to first road (Taylor Road) turn left again, and proceed to parking lot on right side of road after crossing over thruway. GPS (41.4076,-74.0818)
From Rt-17: Travel north on Rt-17 to Rt-32 in Harriman, NY. Take Rt-32 north 7½ miles to Pleasant Hill Road. See above.
Saturday April 21-May 5, 2018 Hike the Camino—Portugal into Spain Moderately Strenuous
This will be a two week hike along the Camino from Lisbon to Santiago de Compostela averaging 10-12 miles a day. The trip will soon have a waiting list. However, please contact the leader to express interest in the trip and receive more information. If you have already contacted Craig, there is no need to contact him again at this time.
Leader: Craig Nunn: 551-206-6823 [email protected]